Within 10 unimaginable days, the global spread of COVID-19 radically altered the ways in which we engage with reality and occupy space. This historic turn has signaled a rare united reflection on the fragility of our production processes, the hubris of ceaseless growth and endless mobility, and finally, our accountability for how we occupy our planet. The pandemic has turned the city further inwards, into singular zones of containment and immersive territories. New order is generated from collections of inner spaces between individual mental realms of domesticity and the threatening "outside."

The demarcation of space and the selective unification and segregation of people in space have always been fundamental to architecture. Architecture also has the capacity to register the transgressions that resist these differentiations, such as those between "public" and "private" uses, between admittance to "civic" and "commercial" programs, access to "indoor" and "outdoor" amenities—even access to "good" or "dangerous" neighborhoods and apartment buildings. The question, "how will we live together?" challenges us to consider the slippery and fictive meanings of any unified "we." We can become a provisional "We" in some contexts and, in so many others, access is denied, the sense of place-and-kin withheld or cancelled, "otherness" established and architecturally embodied. When are exclusions more (or less) likely to be enforced and architecturally registered? How are our very climates more (or less) controlled?

In this sense, we understand the urban as a constellation of simultaneous microcosms like the autonomous block-islands of Madelon Vriesendorp's rendering "City of the Captive Globe." Rem Koolhaas made visible the multiple microcosms—worlds with ideological interiority—that co-exist within any domain of the city. Like that iconic image, we can frame only a small portion of the otherwise indefinite distension of urban blocks, and we present four such New York City interiorities: 1: sites of sanctuary and transnational solidarity; 2: a politics of the segregating façade envelope; 3: spaces of climatic control and their waste stream; and 4: the unified isolation of the un-natured public park. The collective scope of our project is to examine how spatial contracts are formed and sustained, as well as what forms of living they engender, in New York City.
Deep Segregation
deep here is employed to characterize both a spatial quality relating to an extension or situation far in or down from the outer edge or surface, as well as a conceptual and perceptual dimension marked by intensity and extremity and a state of action necessitating full absorption and involvement.
Deep Segregation is marked by recognition of the always and already, ongoing processes of reclamation and transformation of segregated experiences; a sociocultural, political, aesthetic, and architectural embrace of (or at least a direct reckoning with) a supposedly detrimental condition—segregation.

DEEP SEGREGATION argues that in order for any presumed "we" to live together, this so-called "we" must recognize and confront difference, including the disparate and fundamentally unequal ways in which life has been and continues to be lived. Rather than attend to the spectacular, extremes (such as extreme poverty or extreme wealth), or the universal, this work champions a close reading and engagement with the seemingly banal, the middle, and the particular, the black and brown.

Featuring Tracey Towers (1967-1972, Bronx, NY, Paul Rudolph), Schomburg Plaza (1975, East Harlem, NY, Gruzen & Partners), and Harlem River Park Towers (1969-1974, Bronx, NY, Davis Brody and Associates), DEEP SEGREGATION chronicles and brings into view the architecturally invisibilized typology of high-rise residential towers developed mostly in 1970s New York for low-moderate- and middle-income black and brown bodies, under the Mitchell-Lama housing program. This work interrogates, speculates on, and theorizes about the techniques, material, and deeply entrenched forms of urban segregation these towers formalized, along with the inventions, joys, pleasures, and challenges of those who have called and will continue to call them home.

Three-Dimensional (Fragment/Sectional) Representations:

Pink Opaque Acrylic:
Schomburg Plaza, 1975, Gruzen & Partners, East Harlem, NY

Excerpt from Ife Salema Vanable,
"Schomburg Plaza and the High-Rise Residential Tower Lying in the Negro Sense," Unpublished (2017).

"Schomburg Plaza is a six hundred-unit apartment complex comprised of twin, offset, thirty-five story, 100 x 100 ft. octagonal residential towers facing Central Park and an eleven story, mixed-use rectilinear bar building on Madison Avenue. Cast in shadow, recessed areas between balconies are akin to trenches, rendering alternating sides of the high-rise towers striated and furrowed out. Built with poured-in-place concrete and adorned in concrete block treated with the corduroy treatment associated with the work of Paul Rudolph, although not of the ashy gray of Rudolph's work, but of a more ruddy hue, the towers stand in firm geometric, muscular, material dissent of the public housing projects designed in a "pragmatic, no-frills NYCHA Modernism, adorned in fireproof Hudson River-brick;" [1] a material choice also firmly rooted and committed to economy of production as championed by the New York Urban Development Corporation­­. The concrete block was less expensive than the brick."

[1] Bloom and Lasner, eds., Affordable Housing in New York, 132.


Grey Opaque Acrylic:
Tracey Towers, 1967-1972, Paul Rudolph, Bronx, NY


Orange Opaque Acrylic:
Harlem River Park Towers, 1969-1974, Davis Brody and Associates, Bronx, NY

Excerpt from Ife Vanable, "Working the Middle: Harlem River Park Towers and Waterside Plaza," in the Avery Review 30 (March 2018).

"River Park Towers was designed by Davis Brody & Associates (DBA) and is marked by a pair of nearly identical, vertically articulated conjoined towers of thirty-eight and forty-two stories; the sets differentiated by mirrored plans and offset positioning. In contrast to the horizontally articulated, red-brown brick of NYCHA "projects," River Park Towers is adorned in eight-inch-square, rusty-brown "super bricks" designed by DBA, though laced with traces of that distinct "project" red.[2]...Growing wider as they get taller, the Towers command views of the George Washington Bridge, Yankee Stadium, and the Whitestone and Throgs Neck Bridges in the distance. Their muscular geometry and looming presence—at four hundred feet, they are the tallest buildings in the Bronx—are anomalies in the surrounding context of modest apartment houses and detached homes set into the hills of Morris Heights."

[2] The Davis Brody & Associates custom brick was similarly deployed at its earlier, 1968 Riverbend Houses, a Mitchell-Lama co-op located in Manhattan. The custom 5.5-by-8-inch bricks were first referred to as "super bricks" in reference to Riverbend Houses. Nicholas Dagen Bloom and Mathen Gordon Lasner, eds. Affordable Housing in New York: The People, Places, and Policies that Transformed a City(Princeton and Oxford: Princeton University Press, 2016), 218.


Ife Salema Vanable with
Nienying Lin and Sally Chen
Models by Nienying Lin

Microclimates
With MICROCLIMATES, we aim to situate "living together" as a fragile constitution of micro-ecologies; a fragmented assembly of confined interiorities with varied environmental conditions; an intersection of the technical and psychospatial dimension.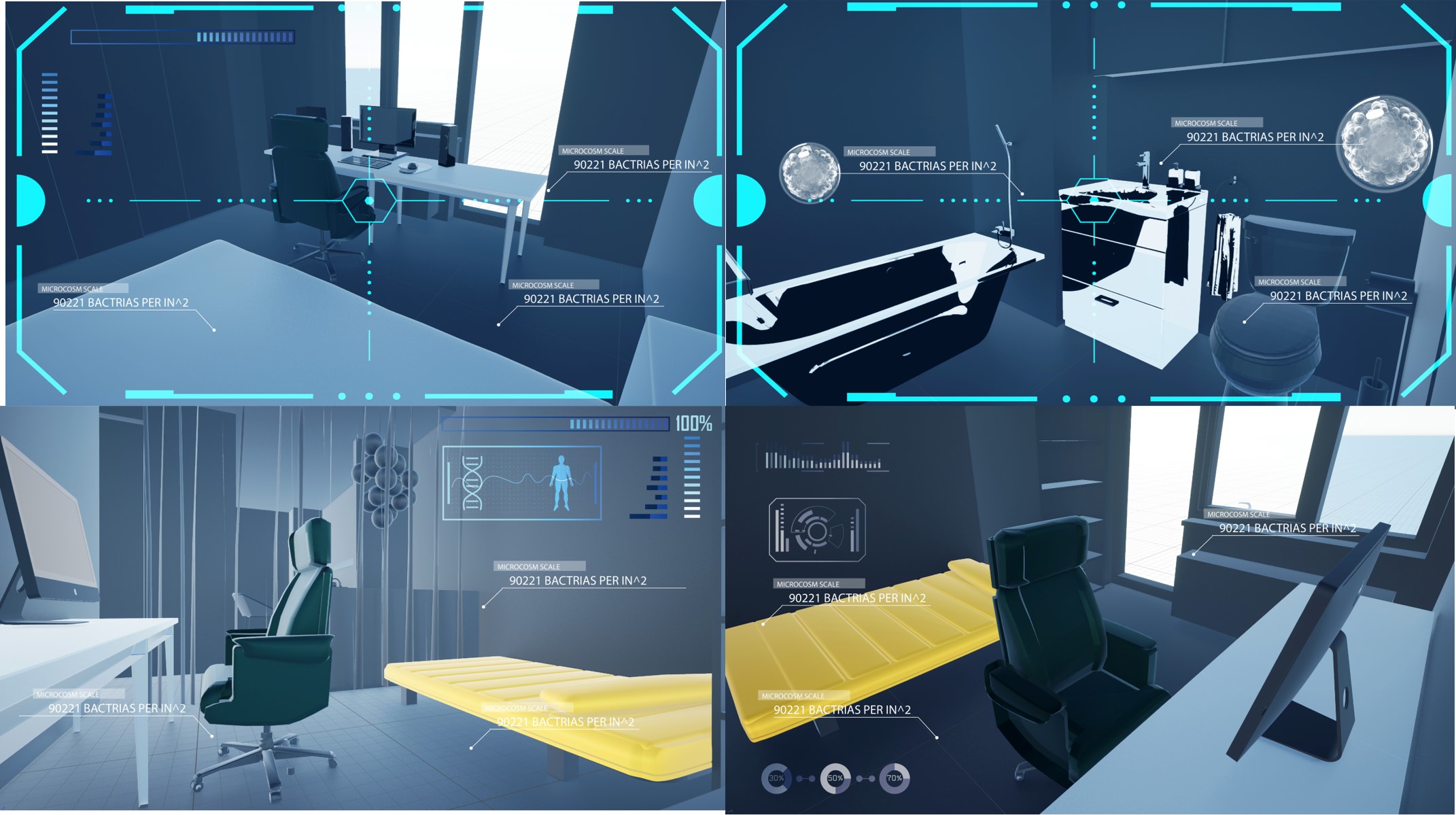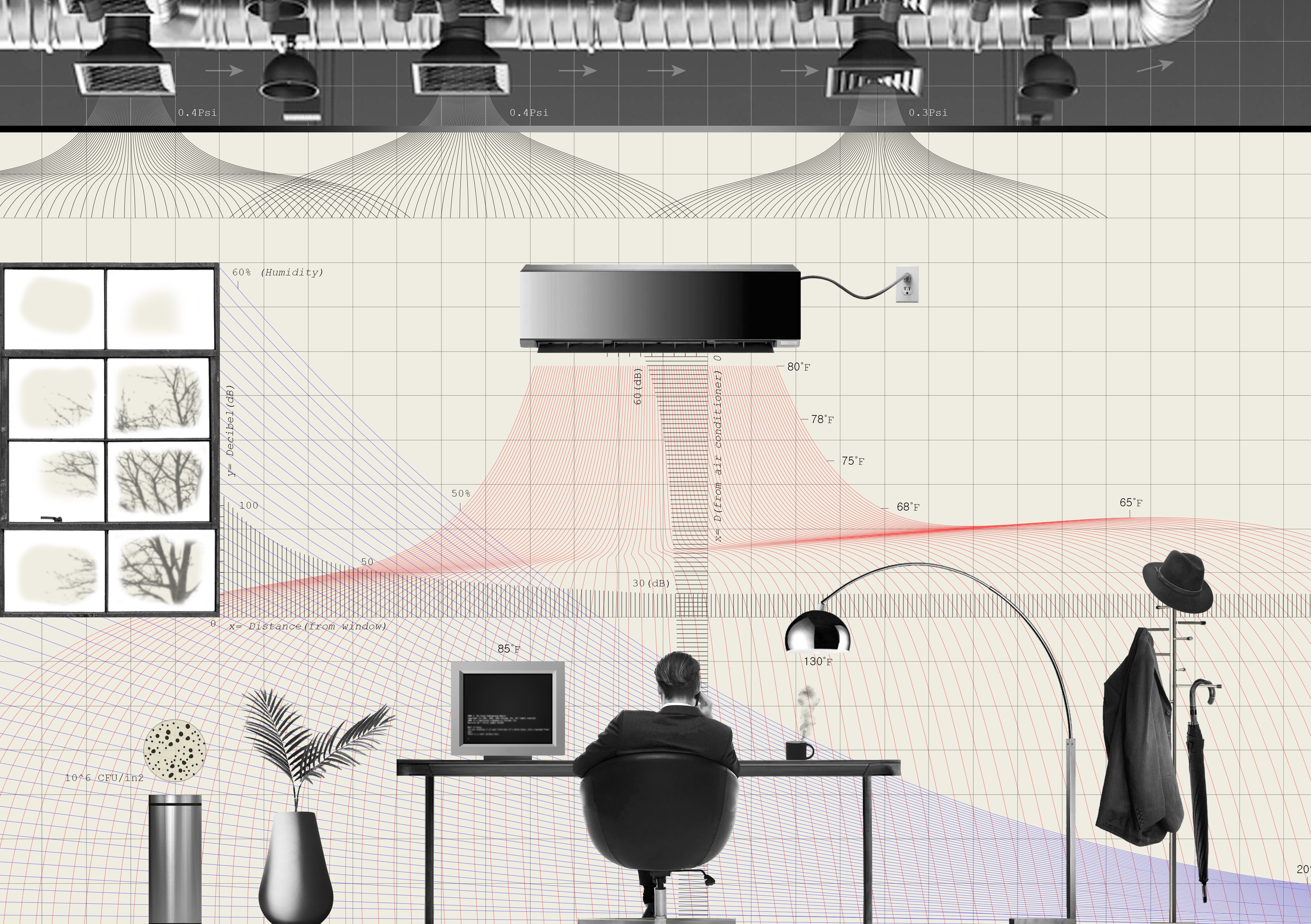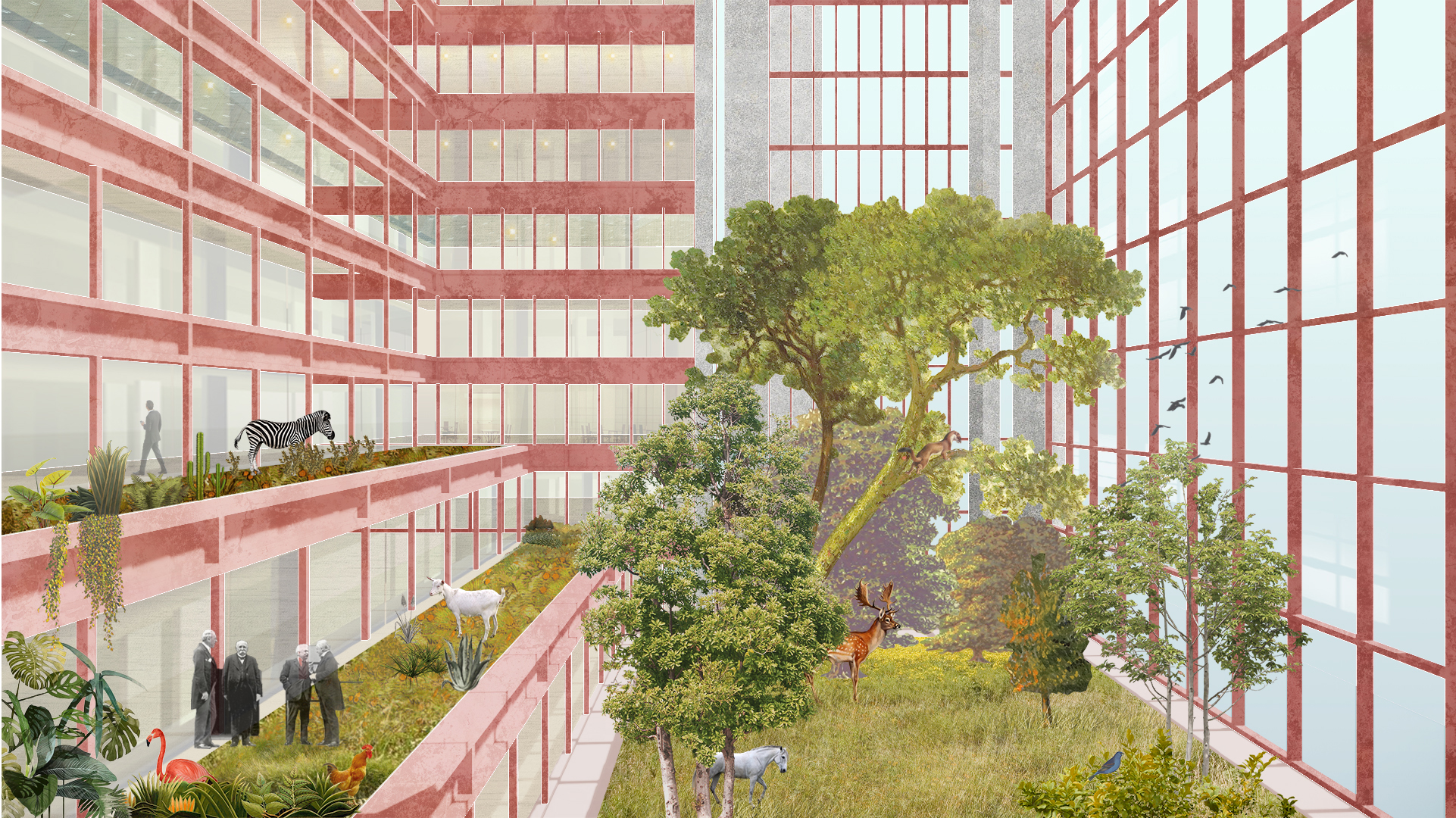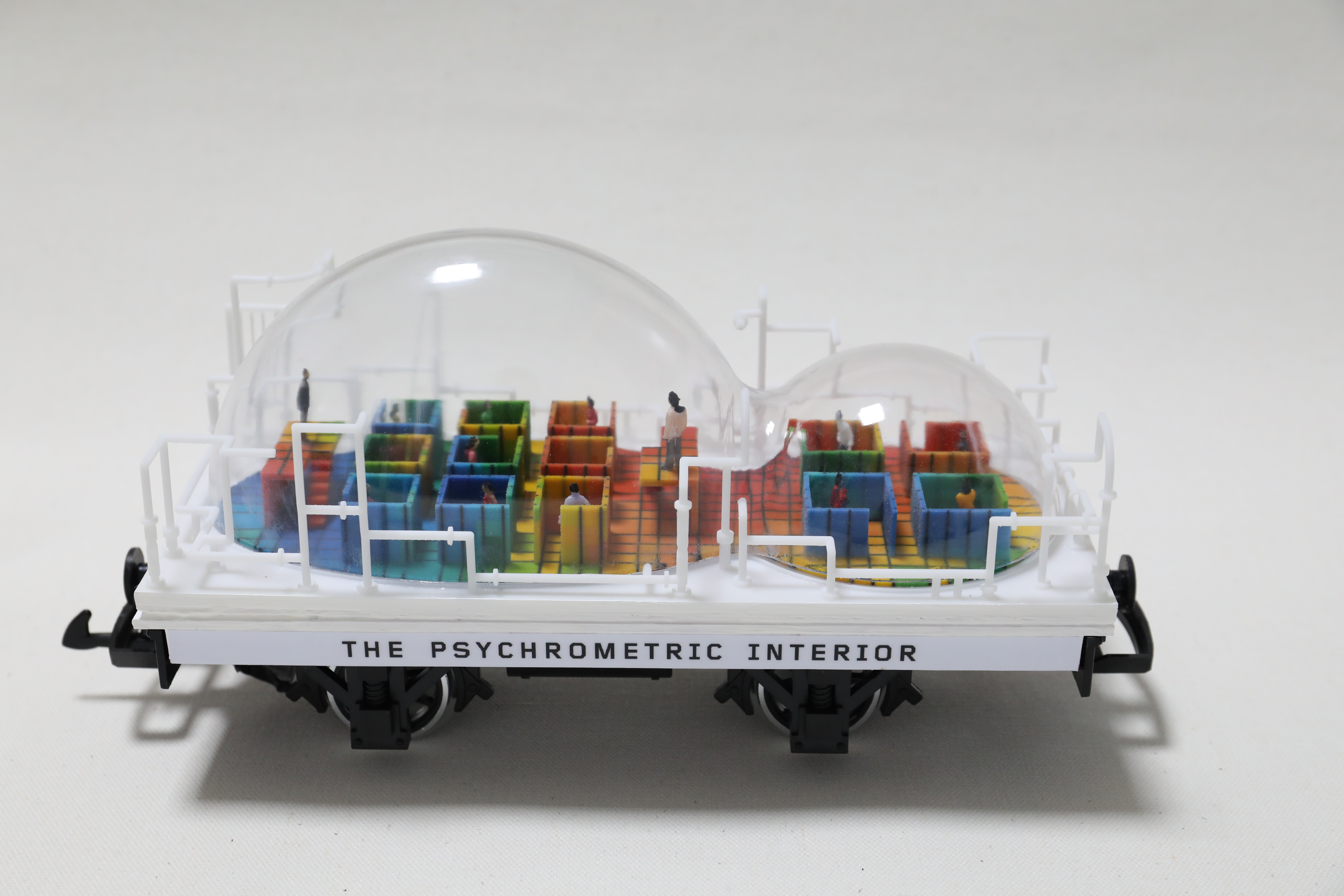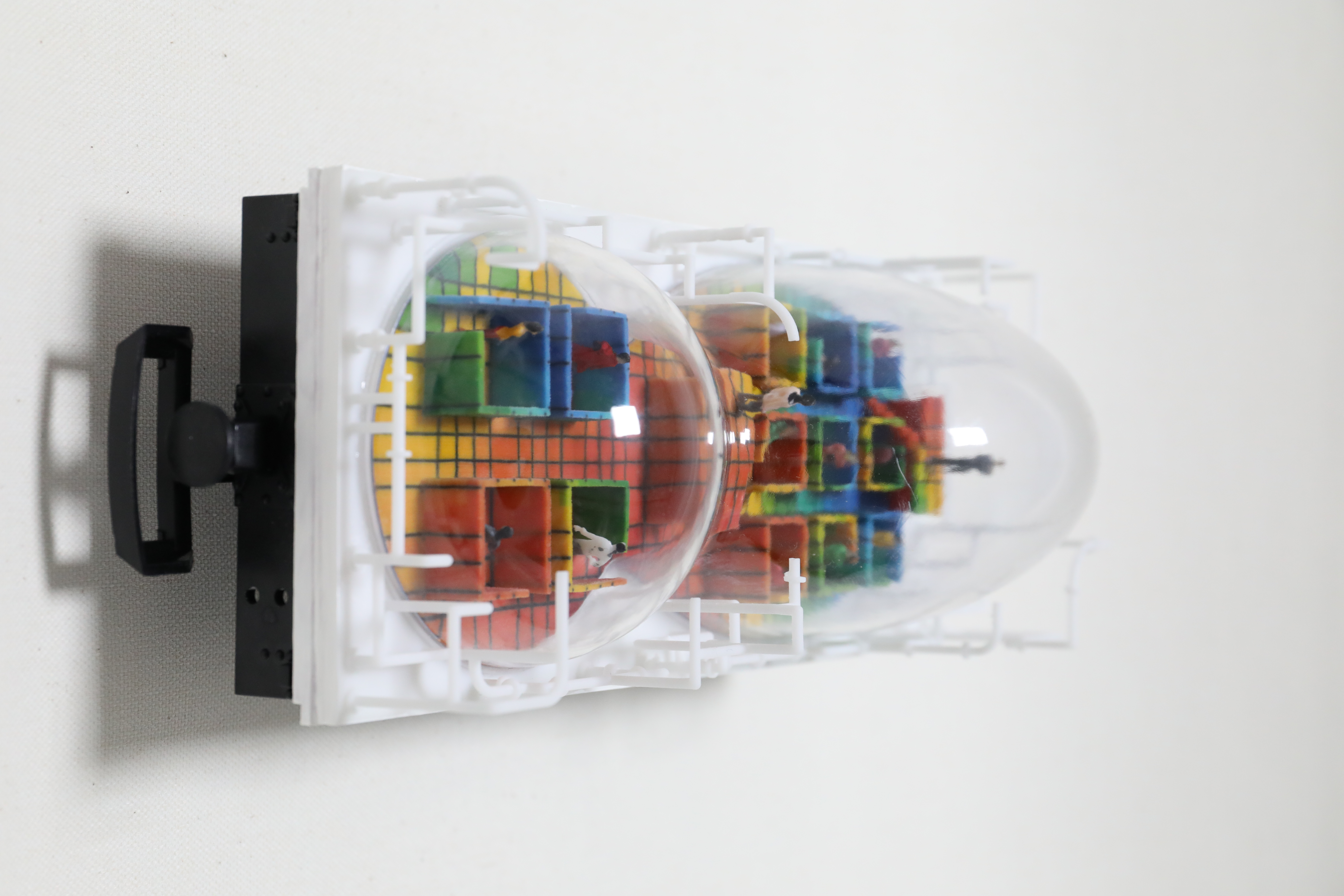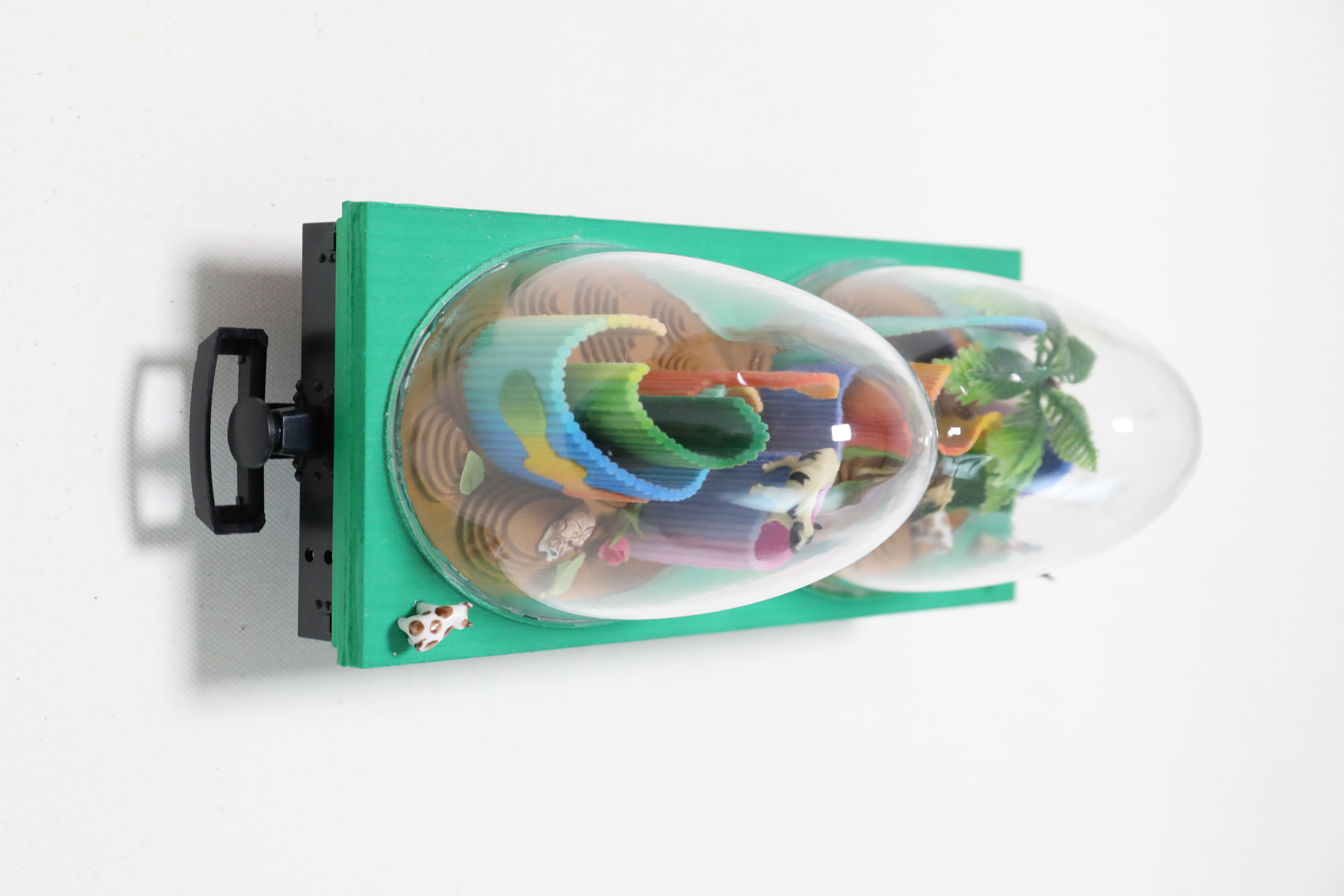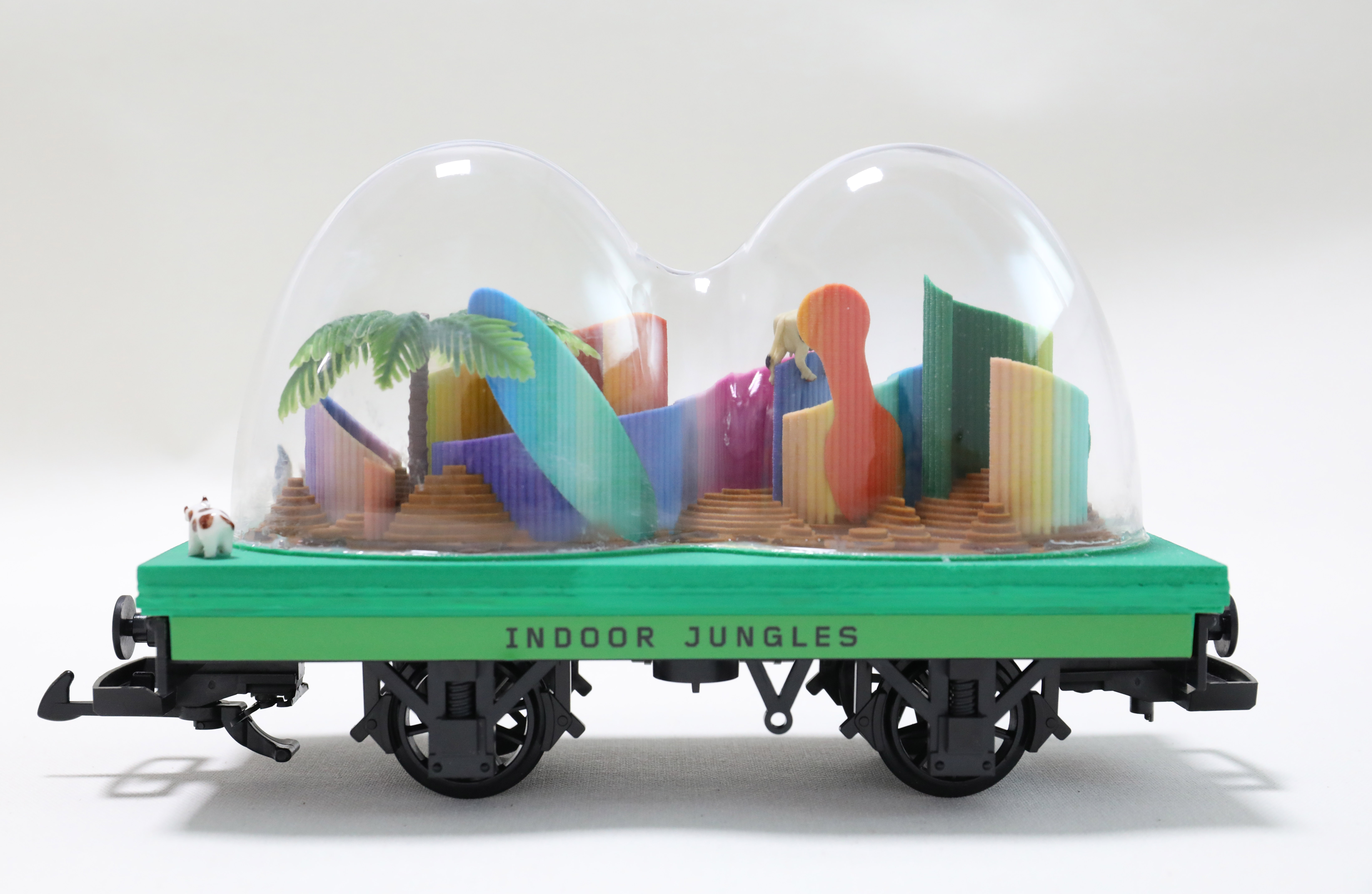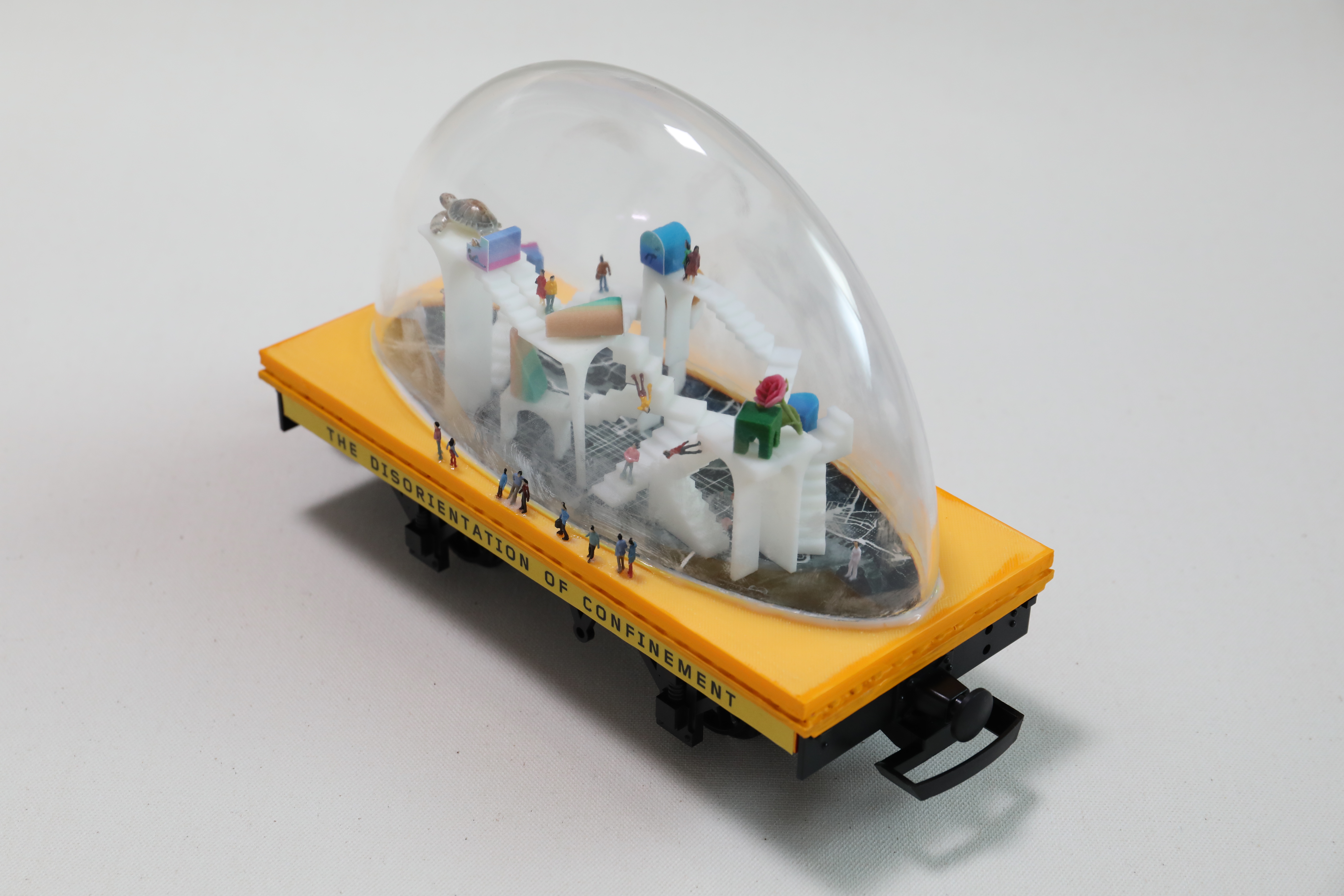 Living 90% of our lives indoors has proliferated as a modality of living and working in New York City since the early 1980s. With the allusion of comfort, the climatically controlled interior reflects the hubris of late-modern capitalism in the heightened combination of entertainment and ecology within the place of work and the domestic interior. Designing, monitoring and managing indoor climates is not only a key engineering project, but also revives a postwar utopian project, to temper and fabricate the environment as a site of architectural production. The voluntary containment of bodies and psyches inside, exhibits new forms of urbanization and collectives enabled from the economic and societal structures of uninhibited energy expenditure.

MICROCLIMATE monitors, analyzes and speculates on indoor micro-ecologies that reproduce fully controlled sections of the natural world. With our survey we aim to critique as to where we are placed within broader histories of environmentalism, urbanization and politics, as well as how to illustrate how civic agency may enable new forms of economic and political relations. Further, we aim to construct a new map of the city, as a collection of dispersed interiorities and a psychogeography of an emerging order in the age of pandemics, climate change and extinction.

Team Leader: Lydia Kallipoliti
Research collaborator and animation: Xiaoxiao Zhao
Studio Team: Doosung Shin, Qicheng Wu
Models: Doosung Shin
Consultants: Austin Wade Smith, Pamela Cabrera

Read more
Parks & Recreation
Q: How Do We* Live Together? A: Parks** and Recreation
*New Yorkers **Riverside Park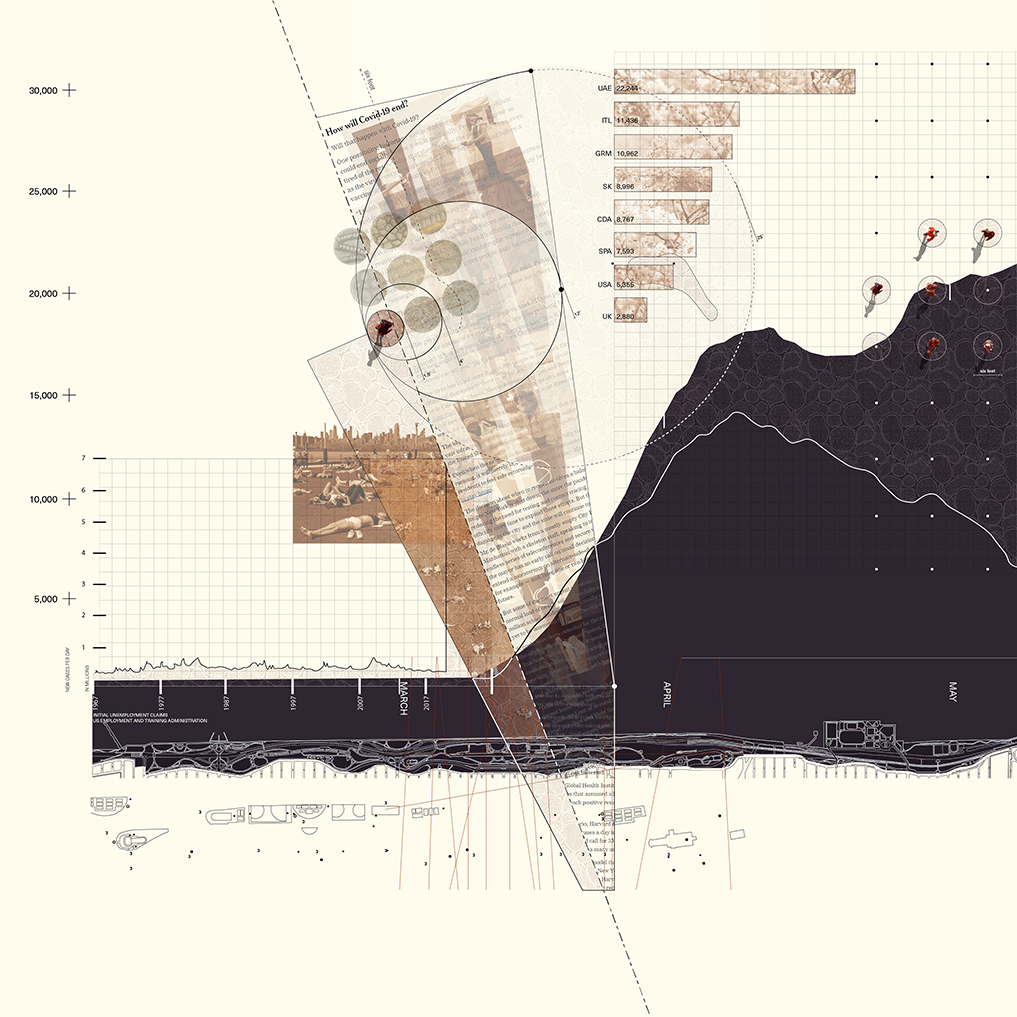 Living Together cannot turn to housing for models, certainly not in New York, where housing segregates by class, and neighborhood-school districts divide again by race, ethnicity, language. We co-exist best outdoors in the public parks with large catchment areas: here our social microcosms more-or-less successfully ignore one another in pursuit of individual aims in the presence of others. These are the most optimistic of our models for a New Spatial Contract.

Here are, simultaneously or in temporal and seasonal succession: joggers, bicyclists, scooters, skateboarders, nappers, eaters, dog-walkers, many soccer games on the same field, Little League, pick-up basketball, birthday parties, volleyball, muscle beach, elders, food carts, volunteer gardeners, park employees, homeless, readers, pot-smokers, religious observance, children with moms or with sitters, track team practice. Every hue, tone, shape, age human may be found here. In summer, day camps, concerts, dancers, sunbathers, playground sprinklers, goats; in winter, sledding, cross country skiing, decent skating rinks created by bad drainage, snow sculpture, dogs in ridiculous attire.

Below: Amtrak train tunnel (the Freedom Tunnel: homeless encampment and graffiti site), electrical conduits, water supply, sewage and storm drains, granite, mica-rich Manhattan Schist, 125th Street-Manhattanville Faultline, earth and landfill, retaining and riprap walls. Also: rats, moles and voles.

At grade: lakes of poor drainage, overflowing trash cans, light posts, benches, railings, asphalt-concrete promenade, water fountains, dog runs, running track, basketball courts, handball, storage sheds, synthetic-grass playing fields, skate park, sand-pits. Also: squirrels, raccoons, skunks, rats.

Above: helicopters, military aircraft, passenger planes, incessant sound of the highway, trash caught in tree limbs, Also: squirrels, over 150 species of birds including migratory flocks and raptors.

Riverside Park occupies land on the traditional territory of the Munsee Lenape (today the Munsee-Delaware) Nation and Wappinger (today dispersed into Oneida and Stockbridge-Munsee Tribes) Nation.

Team Leaders:
Hayley Eber, Lauren Kogod
Model Team: Sally Chen, Yingxiao Chen
Model Fabrication: Austin Wade Smith, San Simeon Koizumi
Studio Team: Jamie Lindsey, Roni Schanin, Giedre Darskute
Spectrum Photography: Maren Speyer
Sanctuary
In asking the question 'how will we live together?', we look to the spaces in the city where abolitionist and liberatory imaginaries are practiced: the urban sanctuary network.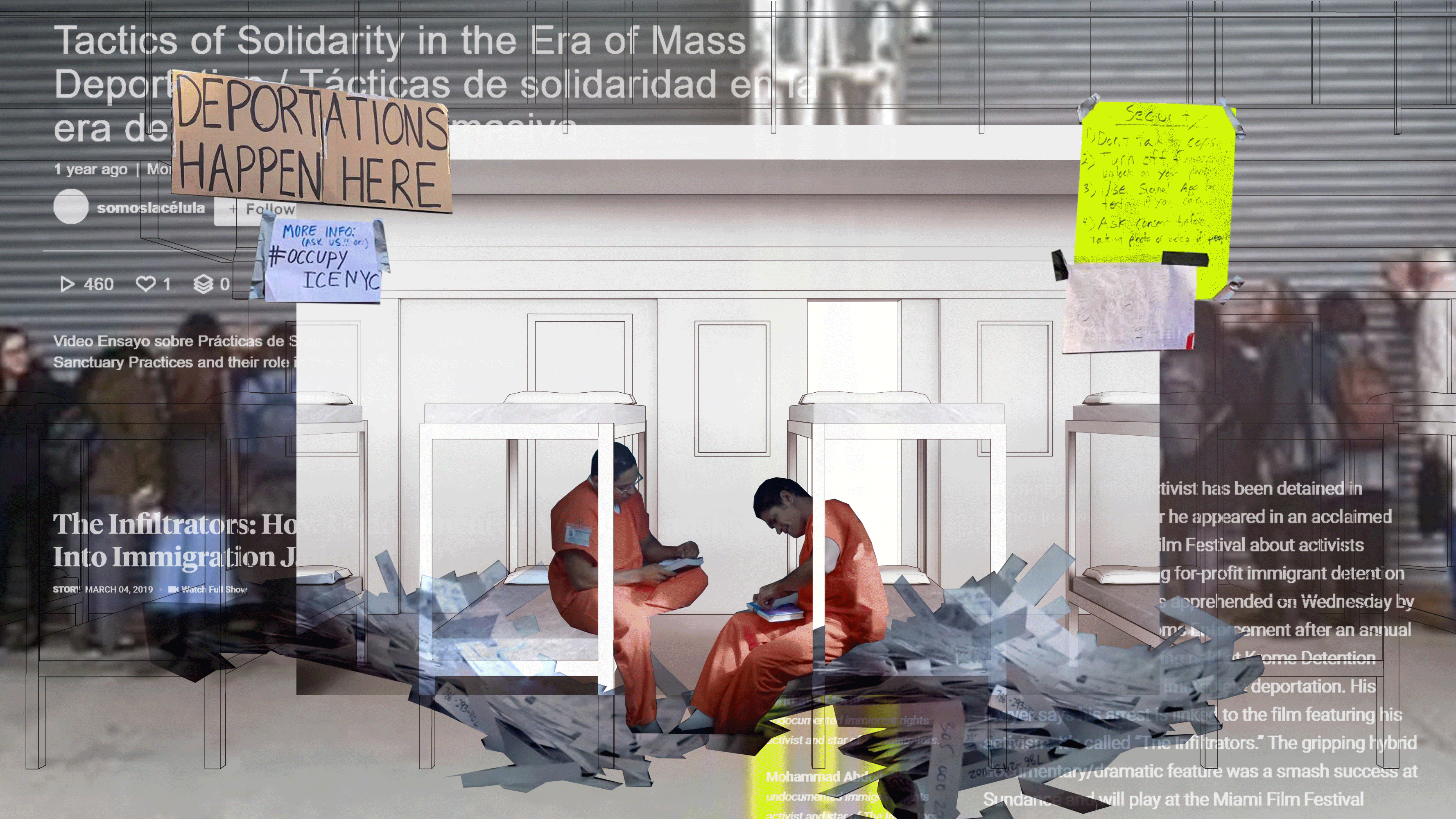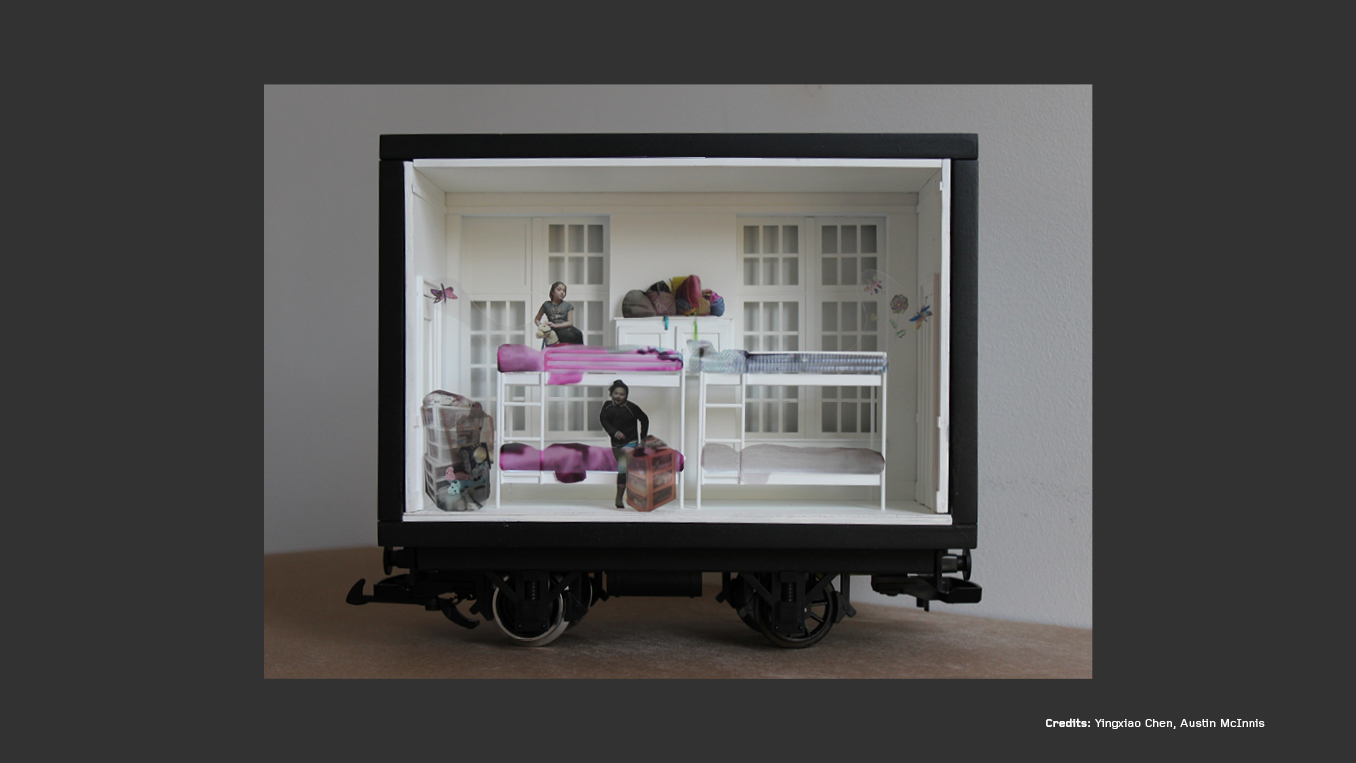 "The sanctuary movement, in its various aspects, shows us that there is a whole city within the city we currently know. An invisible "seventh city" made of neighbors not only giving and taking solidarity, but with languages, practices, knowledges and capacities capable of helping the whole city reimagine itself."

— Vicente Rubio-Pueyo, 2019

We have seen an acceleration in the United States' racist immigration policies, the criminalization of migrant bodies, and their detention and deportation. Violations against migrants' and refugees' rights are most visible along national borders and airports, but they extend deeper into cities, neighborhoods, public spaces, institutions, and homes.

Resistance against such violations has been staged by the sanctuary movement and the refusal to collaborate with immigration enforcement agencies. The notion of "sanctuary" in religious terms means to be "set apart". In political movements, sanctuary spaces refer to spaces of physical safety. In the United States, it can be traced back to the stowaway houses and escape routes of the abolitionist movement.

In asking the question 'how will we live together?', we look to the spaces in the city where abolitionist and liberatory imaginaries are practiced: the urban sanctuary network.
Advisors: Nora Akawi, Ziad Jamaleddine, Eduardo Rega
Students: Yingxiao Chen, Austin McInnis
Models by: Austin McInnis